ELESP GRADUATE TEACHER IDENTITY: WHY SOME CHOSE NON-TEACHING JOB?
Fransiska Wulandari

Universitas Kristen Duta Wacana
Keywords:
ELESP graduate, non-teaching job, teacher identity construction
Abstract
This paper investigates English Language Education Study Program (ELESP) graduates' teacher identity construction. This paper focuses on the reason why ELESP graduates prefer non-teaching job instead of being a teacher. This paper employs qualitative study and focuses deeper on the phenomena. In gathering the data, questionnaire and deep interview was conducted as the research instrument. The result shows that economic reason becomes one factor why ELESP graduate leave the teaching job.
References
Ary, D., Jacobs, L. C., & Sorensen, C. (2010). Introduction to research in education (8th ed.). New York: Wordsworth Thomson Learning.

Broke & Stone. (2005). Competency based on training. New York: McGraw Hill Company.

Chaplin, J. P. (1968). Dictionary of psychology. New York: Dell Publishing Co. Inc.

Dretske, F. (1988). Explaining behavior. Cambridge, MA: MIT Press.

Gibson, J. L. (1985). Psychology. Texas: Business Publication Inc.

Glatthorn, A. (1995). Teacher development. London: Pergamon Press.
Idris, Z. (2014). Uji kompetensi guru (UKG) dan penilaian kinerja guru (PKG).pdf. Program Pascasarjana: Universitas Islam Nusantara Bandung. Retrieved from http://www.academia.edu/24361946/UJI_KOMPETENSI_GURU_UKG_DAN_PENILAIAN_KINERJA_GURU_PKG on September 27, 2017.

Kemdikbud. (2015). Pedoman pelaksanaan uji kompetensi guru. Jakarta: Direktorat Jenderal Guru dan Tenaga Kependidikan.

Lodico, M. G., Spaulding, D. T., & Voegtle, K. H. (2006). Method in educational research. San Fransisco: Jossey-Bass.

Mulyasa, E. (2013). Uji kompetensi dan penilaian kinerja guru. Bandung: PT. Remaja Rosda Karya.

Ramsey, F. H. (1986). The little brown handbook. Boston: Little Brown.

Richards, J.C.& Farrel, T.S.C. (2005). Professional development for language teachers: Strategies for teacher learning. Cambridge: Cambridge University Press.

Rodrigues, S. (2005). A model of teacher professional development: The partnership in primary science project. New York: Nova Science Publisher, Inc.

Tao, J. & Gao, X. (2017). Teacher agency and identity commitment in curricular reform. Teaching and Teacher Education, 63(2017), 346-355.

Usman, M U. (2001). Menjadi guru profesional. Bandung: PT Remaja Rosdakarya.

Vernon, M. D. (1987). The psychology of perception. Middlesex: Penguin Books.

Warganegara, N. S., Berchah P., & Hermi, Y. (2013). Persepsi guru terhadap pelaksanaan uji kompetensi guru di SMA Negeri 3 Bandar Lampung tahun pelajaran 2012/2013.pdf. Retrieved from http://digilib.unila.ac.id/8980/ on October 5, 2017.

Wiersma, W. (1995). Research method in education: An introduction. New York: Allyn and Bacon.

Wigginss, G. (1998). Educative assessment. San Fransisco: Jossey-Bass Publisher.

Wurinanda, I. (2015). Rata-rata nilai UKG di bawah standar. OkeZone.com. Retrieved from https://news.okezone.com/read/2015/12/30/65/1277618/rata-rata-nilai-ukg-di-bawah-standar on September 30, 2017.

Yuswono, L. C., Martubi, Sukaswanto, & Agus, B. (2014). Profil kompetensi guru SMK teknik kendaraan ringan di Daerah Istimewa Yogyakarta.pdf. Prosiding Konvensi Nasional Asosiasi Pendidikan Teknologi dan Kejuruan (APTEKINDO) ke 7 FPTK Universitas Pendidikan Indonesia. Retrieved from http://www.academia.edu/11417575/Menyiapkan_Guru_Profesional_di_SMK_Teknik_Kendaraan_Ringan_TKR on October 5, 2017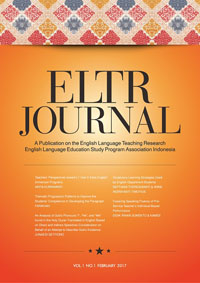 How to Cite
Wulandari, F. (2020). ELESP GRADUATE TEACHER IDENTITY: WHY SOME CHOSE NON-TEACHING JOB?. ELTR Journal, 4(1), 1-15. Retrieved from http://eltr.apspbi.or.id/index.php/eltr/article/view/53
Copyright (c) 2020 Fransiska Wulandari
This work is licensed under a Creative Commons Attribution-ShareAlike 4.0 International License.