IMPROVING READING COMPREHENSION ON RECOUNT TEXT BY USING AUTHENTIC MATERIAL
Keywords:
reading comprehension, recount text, authentic material, classroom action research
Abstract
The research was aimed to improve students' reading comprehension on recount text by using authentic material to Class IIS 2 students of Year-10 in SMAN 1 Mempawah, membership of 33 students. This research was a Classroom Action Research with two cycles. Each cycle consisted of planning, acting, observing, and reflecting. Field notes, observation checklist, video recording, and individual tests were used as the tools to collect the data. Qualitative and quantitative analyses were used to analyze the data. The finding showed that there was a significant improvement from cycle to cycle. Through authentic material, the students were able to improve their reading comprehension well. It helped the students to learn with the real model and found an interesting way in the learning process. The researcher focused on reading comprehension of recount text by using authentic printed materials in kinds of newspapers. It was very appropriate, effective, and helpful to be used by the teachers in teaching reading comprehension on recount text.
Downloads
Download data is not yet available.
References
Akbari, O., & Razavi, A. (2015). Using authentic materials in the foreign language classrooms: Teachers' perspectives in EFL classes. International Journal of Research Studies in Education, 5(2), 105-116.
Berardo, S. A. (2006). The reading matrix: The use of authentic materials in the teaching of reading.
Bernadowski, C. (2011). A good read literacy strategies with newspaper. Newspaper Assciation of America Foundation.
Brigitta, S.R. (2001). Using newspaper as learning media to teach reading skills. Teacher Training and Education
Cowell, L.S. (2012) Pre-teaching vocabulary to improve comprehension in a narrative texts. Published dissertation of Graduate Faculty of Auburn University, Auburn, Alabama.
Efron, S.E., & Ravid, R. (2013). Action research in education. New York: The Guilford Press.
Ferrance, E. (2000). Themes in education: Action research. US: Northeast and Islands Regional Educational Laboratory at Brown University.
Koshy, V. (2010). Action research for improving practice. London: Paul Chapman Publishing.
Liu, F. (2010). A short analysis of the nature of reading. English Language Teaching, 3.
Martinez, A. (2002). Authentic materials: An overview. Mexico City.
Marzban, A., & Davaji, S. (2015). The effect of authentic texts on motivation and reading comprehension of EFL students at intermediate level of proficiency. Theory and Practice in Language Studies, 5(1), 85-91.
Neikova, M. (2005). Using reading authentic material in FLT. Bulgarian English Teachers' Association. BETA-IATEFL.
Norton, L. S. (2009). Action research in teaching and learning: A practical guide to conducting pedagogical research in university. New York: Routledge.
Pelton, R.P. (2010). Action research for teacher candidate. USA: Rowman & Littlefield Publishing Group, Inc.
Tamo, D. (2009). The use of authentic materials in classroom. Linguistic and Communicative Performance Journal, 2(1), 74-78.
Tomlinson & Masuhara. (2010). Developing materials for language teaching. London: Bloomsbury.
Vaiciuniene, V., & Uzpaliene, D. (2010). Authentic resources in technology-based ESP learning: Studies about languages. Kalbų Studijos, 17, 94-98.
Wardani, I.D. (2016). Authentic materials as a media for teaching vocabulary. Educazione, 4(1).
widyastuti. (2017). Authentic material and Automaticity for Teaching English. Register Journal, Language & Language Teaching Journals, 10(1), 83-100.
Woolley, G. (2011). Reading comprehension: Assisting children with learning dificulties. New York: Springer Dordrecht Heidelberg.
Zhang, L. (2018). Metacognitive and cognitive strategy use in reading comprehension. Singapore: Springer Nature Singapore Ptc Ltd.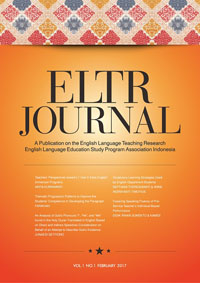 Downloads
How to Cite
Yeni Mustika. (2020). IMPROVING READING COMPREHENSION ON RECOUNT TEXT BY USING AUTHENTIC MATERIAL. ELTR Journal, 4(2), 140-151. https://doi.org/10.37147/eltrj.v4i2.68