TEACHERS' EFFECTIVE TEACHING IN THE VIEW OF EFL STUDENTS: A SURVEY ON HIGH SCHOOL STUDENTS IN TASIKMALAYA
Junjun Muhamad Ramdani

Universitas Siliwangi
Keywords:
Effective teaching, Teacher's performance, Teacher's competence
Abstract
The issue of the teaching effectiveness based on the students' perceptions is the major focus of this research. The questionnaires, following the seven Cs elements which consist Care, Control, Clarify, Challenge, Captivate, Confer, and Consolidate, are given to 401 respondents representing the students in Tasikmalaya. The result shows that their responses about the teacher is moderately effective. This informs that generally the teachers are less implementing the teacher's role and the concept of ideal language teacher (Brown, 2000) which is also related to competence and performance (Richard, 2008) of a teacher. From these factors, to support the finding, the extension will be on the students' national examination result because the part will be correlated with this result that is considered as an indicator of the success of learning, especially in learning English.
References
Adams, Cheryll M.& Rebecca L. Pierce. (2014). Characteristics of Effective Teaching.[http//rrightthere.com.cn/3/2046/76/3250.[September 28, 2014, 03:45]

Barry, Robert A. (2010). Teaching Effectiveness and Why It Matters. [Saturday 27, 2014, 22:55]

Berk, Ronald A. (2005). Survey Method of 12 Strategies to Measure Teaching Effectiveness. International Journal of Teaching and Learning in Higher Education, Vol. 17, No. 1, 48-46 ISSN 1812-9129

Brophy, J. (2004). Motivating Students to Learn, New Jersey: Lawrence Erlbaum Associates.

Cooper, Paul & Donald McIntyre. (1996). Effective Teaching and Learning. Philadelphia; Open University Press

Gurney, Philips. (2007). Five factors for Effective Teaching. New Zealand Journal of Teachers' Work, Vol 4 Issue 2, 89-98

Hale, Jamie. The 3 Basic Types of Descriptive Research Method. http://psychcentral.com/blog/archives/2011/09/27/the-3-basic-types-of-descriptive-research-methods/ [Saturday 27, 2014, 23.45]

Hanover research.(2013). Student Perception Survey and Teacher Assesment. [http//Hanover-Research-Student-Surveys.pdf, September 28, 2014, 04:55]

Kyriacou, Chris.(2009). Effective Teaching in Schools. Third Edition. UK; Nelson Thornes Ltd.

Munoz, Ana, and Martha E. Alvarez. Students' Objectivity and Perception of Self Assessment in an EFL Classroom. The Journal of ASIA TEFL. Vol 2 No.4, 1-25

Richards, Jack C. (2011). Competence and Performance in Language Teaching. USA; Cambridge University Press

Rubio, C. Moreno.(2009). Effective Teachers-Professional and Personal Skills. Retrieved from http://www.uclm.es/ab/educacion/ensayos

Shulin, Yu.(2013). EFL Teachers' Beliefs and Practices regarding Peer Feedback in L2 Writing Classrooms. Polyglossia. Vol.24, 74-79

Smittle, Patricia. (2003). Principles for Effective Teaching. Journal of Developmental Education. Vol. 26. Issue 3, Spring.

Tsiplakides, Iakovos and Areti Keramida.(2010). Promoting Positive Attitudes in ESL/EFL Classes. The Internet TESL Journal, Vol. XVI, No. 1. Retrieved from http://iteslj.org/

Weimer, Maryellen. (2014). Teaching Effectiveness: The Definitions of Teachers and Students. In Layne, L. (2012). Defining effective teaching. Journal on Excellence in College Teaching, 23 (1), 43-68. http://www.facultyfocus.com/articles/teaching-and-learning/teaching-effectiveness-definitions-teachers-students/ [Saturday 27, 2014, 22:30]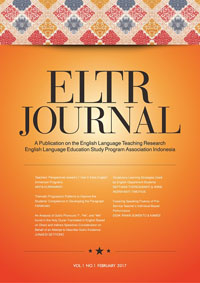 How to Cite
Ramdani , J. M. (2018). TEACHERS' EFFECTIVE TEACHING IN THE VIEW OF EFL STUDENTS: A SURVEY ON HIGH SCHOOL STUDENTS IN TASIKMALAYA. ELTR Journal, 2(1), 1-15. Retrieved from http://eltr.apspbi.or.id/index.php/eltr/article/view/28
Copyright (c) 2018 Junjun Muhamad Ramdani
This work is licensed under a Creative Commons Attribution-ShareAlike 4.0 International License.